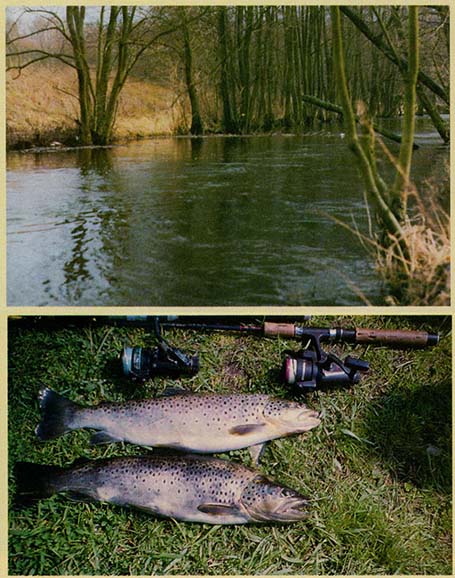 The brown trout in the opinion of many anglers, especially these, who haven't caught it yet, is a predator difficult to outsmart.
They share a similar opinion, also trout, taking care, that catching a fat "fario" requires a certain amount of craftsmanship and skill. Also scientists, dealing with his biology, found empirically interesting and interesting – "feeding" and living behavior worthy of ichthyological attention. By its kinship with the wandering forms of Salmo, The brook, in a way, binds the entire salmonid family with its customs. Same fish, and he can (depending on the environment, in which he lives) adopt a sedentary or itinerant lifestyle and change their "motley" robe.
It lives in both marshy areas, Busy Pomeranian rivers, lakes located on their course, and, of course – swift mountain streams. In the latter, the color of the body resembles a calcareous substrate being almost silvered, with a more elongated shape, to be a "stocky" golden-brown dotted line in the peat-boggy rivers.
More than once I have met with the surprise of "uninitiated" anglers, that he can live in such waters. There is a general image, that trouts "are only in the mountains". The specificity of this noble predator is revealed by the way of feeding and the type of food consumed, depending on the place of occurrence. In swift mountain streams its "outputs" are sort of "static" and consist in collecting bites carried with the flow, which are live and dead insects and their larvae, as well as small invertebrate benthic fauna, while in the larger (with slower pulling power) fertile rivers of Pomerania, has its hiding places in deep pits, he is able to hit a fish that flows near his position, resembling ambush hunting pikes. Besides, in case of fat trout fish food is an important element of their menu and a significant source of calories.
The very name Salmo suggests, that he is the "Nobleman" among predators, and you know – noble blood has it to himself, that it causes all sorts of whims, chimeras and quirks. Volunteers, who would like to get it, they have to take this into account.
Experienced trout have no secrets. However, there are such days, that there is no way to approach him. Any experimentation doesn't work. You need a lot of ideas, that he would like the bait given. Even after hitting the feeding time, to the guided turntable, a wobbler or a fly will "come out", "Will count the legs" – as fly fishermen say – and come back lazily, no rush there, where he came from. And if it "nibbles" then yes, that there is no possibility of jam. Catch it then – is a real fishing masterpiece.
But the behavior of trout also includes exceptions and exceptions to the usual patterns and rules. It happens, that it attacks everything that moves in the water, not particularly picky and choosing. At such moments, even trout novices can catch it. Previously released or freed from the hook, can hit the same spinner again – the same crippling "object", without respecting his life at all. It then gives the impression of a stupid fish – of course if the fish can be stupid.
Another time, after unintentionally, accidental throw, ba – even often unsuccessful – it happens, that a half-meter trout will pop out out of nowhere and pull with such force and force, as if he had never seen a wobbler. Due to the total lack of self-preservation and caution, he seems to be unworthy of a "noble" title. Therefore, trout hunting is an absorbing activity, full of surprises so delightful spinning and fly fishermen with a trapper's flair.
Fishing for "streams" cannot be learned by reading articles in professional literature. For relatively permanent results, you need to be able to "be" on the water frequently, and these don't come easily.
You have to "go out" with years of practice, experiences, observation, survive and… failures. Each trout water has its own rules, depending on hydrological conditions, thermals and fertility as well as types and species of organisms present in it. To get to know and understand them, you need to fish more than once in a given water. The indigenous fishermen know this truth, who do not go out "blind" after trout and do not come back "empty". Different habits of stream bream are manifested by the fact of active feeding during the hatching and departure of all insects (swarms) – in short, on the amount of food in the water at a certain place and time. This is one of the most important conditions, which directly determines trout activity.
Everyone knows about the influence of weather conditions on the feeding of this salmonid, however, differences with the harvesting period of other species should be noted. They are substantial. Due to his cold-loving preferences, he takes. pike or zander. In sum, Brown trout are fish with specific customs, and catching them with spinning or artificial fly requires a bit of patience and persistence. There are moments, that "water is boiled" when trouts are eating. Catching them at this time remains in the memory for a long time, leaves an unforgettable impression. So let's "work" stubbornly, to find such a time. Spring has come. Best time for trout and… for trout.